Niu Haohao refers to the soft milky consistency of maturing coconuts, sometimes referred to as "spoon-meat" coconut. Conversational skills will be taught at this intermediate level.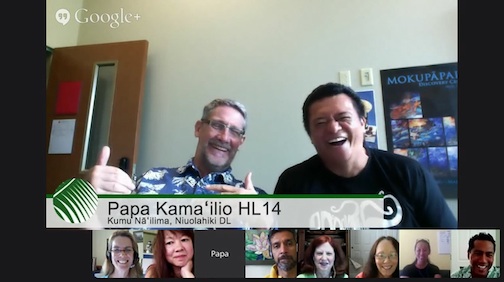 Eia ʻo Kumu Pila Wilson me Kumu Nāʻilima me nā haumāna o ka Papa Kamaʻilio Hāʻulelau 2014.
Our current intermediate papa kamaʻilio (conversational skills class) is offered three times a year with Kumu Nāʻilima. This video-conference class is for anyone who wants to strengthen their speaking skills in a safe and nurturing online setting. All video-conference classes are recorded live and are then archived online for easy access and review by all participants.
This class is especially valuable to those who live abroad and who have no one to practice speaking Hawaiian with as well as for those who reside in Hawaiʻi but are not able to take upper-division classes at the university, or are not able to attend Hawaiian events where ʻōlelo Hawaiʻi is frequently used. For the general public, finding a consistent, in-person hui kamaʻilio (an informal Hawaiian-speaking get together) can sometimes be hard to find. The Niuolahiki Distance Learning program of the ʻAha Pūnana Leo hopes to fill that gap with these online papa kamaʻilio.
Past and present haumāna in our online kamaʻilio classes, who hail from as far away as Kelemānia (Germany), Lākana (London), Konetikuta (Connecticut), Nūioka (New York), Keokia (Georgia), Kaleponi ʻĀkau (Northern California), Wakinekona (Washington state) to Kunia on Oʻahu, are now putting the grammatical concepts that they have learned over the years into practice and are having fun along the way.
An introductory papa kamaʻilio is currently being put together for anyone who has attained a basic level of proficiency and who would like to practice their speaking skills in a safe and nurturing online setting. This class is great for anyone who has taught themselves Hawaiian via books, tape cassettes, DVDs, videos or via other basic online language classes. This class is also great for former adult night school, community college, university students who want to review or pick up where they left off and strengthen their speaking skills. This class will also be offered three times a year. A minimum of at least three (3) semesters with a B grade or higher at the introductory level is required prior to moving on to the intermediate level class.
These topic-based, conversational classes are held online on Saturday mornings at 9am HST for 1.5 hours and meet 12 times during a session at a cost of $340 per session. The cost pays for the instructor's time and the continuation of the Niuolahiki Distance Learning program. Due to the nature of this online class, seating is limited to nine (9) students per class.
No financial aid or grants are available for these non-credit, self-enrichment kamaʻilio classes, but payment plans may be considered on a case-by-case basis so that more people can take part in this wonderful opportunity to focus on strengthening their speaking skills helping to support ʻAha Pūnana Leo's vision of E ola ka ʻōlelo Hawaiʻi–The Hawaiian language shall live.
Please email us at niuolahiki@ahapunanaleo.org if you are interested in creating a payment plan.
The current intermediate-level class with Kumu Nāʻilima is ongoing.
Future sessions will be marked like so: S18 (Spring 2018), K18 (Summer 2018), F18 (Fall 2018), etc.
A Gmail/Google+ account is necessary to participate in our conversational class. If you don't already have a Gmail/Google+ account, you can learn how to set up a free account HERE.
If you are new to the Hawaiian language, however, and would like to start learning today via our online program, we offer self-directed lessons starting at $30 per chapter, pay-as-you go. Enroll into Mokuna (Chapter) 1 by following the four easy steps HERE.
E kamaʻilio kākou!