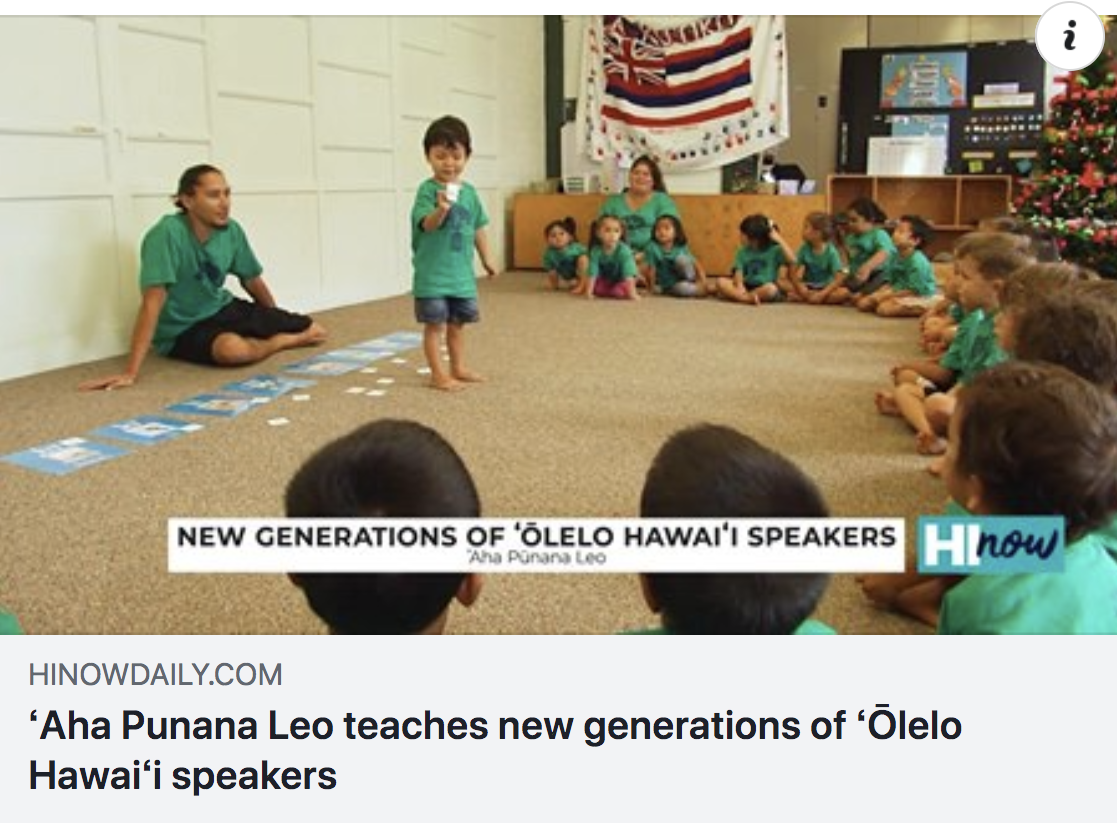 E kaomi i ke kiʻi. Click to watch interview.
ʻAha Pūnana Leo (ʻAPL) has been a leader in the Hawaiian language revitalization movement for 35 years. With new leadership in place, it continues to expand its efforts as it moves forward. HI Now host Kanoe Gibson is with CEO Kaʻiulani Laehā and COO K. Sean Kekina to talk about where they hope to take ʻAPL into the future.
ʻAPL is seen as a global model for indigenous language revitalization and is part of the global steering committee for the United-Nations that declared 2019 International Year of Indigenous Languages. In order for ʻōlelo to actually OLA, or thrive, Laehā explains that people need to see it used and promoted in all sectors of society, including media, industry and economy, government, and social services to name a few.
All of the ʻAPL's progress and recognition to date continues to be grounded in its Pūnana Leo preschools which are ensuring that new generations of Hawaiʻi's keiki are being raised speaking Hawaiian. The organization is clear, however, that in order for the language to thrive, its efforts and impact need to expand as it moves forward.
ʻAPL hopes these preschools will grow to serve even more keiki and their ʻohana. Currently, there are 12 Pūnana Leo sites statewide, and as communities continue to show a desire for more Pūnana Leo, it wants to be able grow and sustain the resources necessary to deliver quality ʻōlelo Hawaiʻi programming.
About ʻAha Pūnana Leo:
 The ʻAha Pūnana Leo is a Native Hawaiian nonprofit that was established in 1983 with a vision of "E Ola Ka ʻŌlelo Hawaiʻi" (The Hawaiian Language Shall Live) and a mission to revitalize the Hawaiian language as a living language in Hawaiʻi and beyond. For the past 30+ years, the ʻAha Pūnana Leo has set a solid foundation and built a reputation for its commitment to normalizing our ʻōlelo Hawaiʻi in its homeland.
For more information: ahapunanaleo.org, @ahapunanaleo